OPTION ONE

NEC Matrix (46") Ultra-Narrow 3x3 TileMatrix Video Wall Solution
MODEL: X464UNV-TMX9P
$35,000 Delivered plus applicable taxes. Delivery takes 4 weeks.
Install not included, 3 year limited warranty.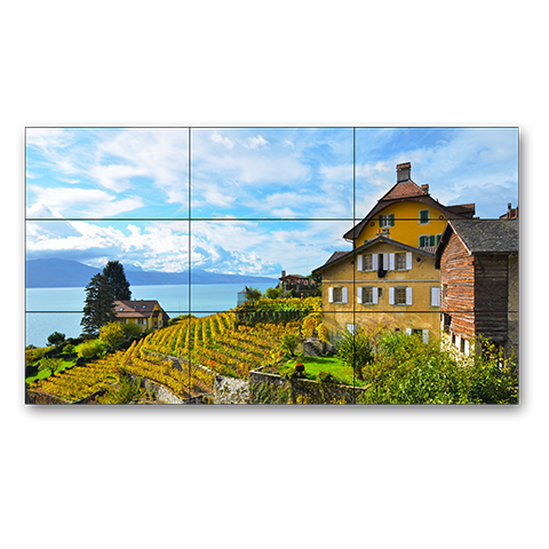 NEC's complete 46" 3x3 LCD TileMatrix™ Video Wall Solution delivers an all-in-one, easy-to-configure and cost-effective solution that is ideal for dynamic digital signage and command & control applications. Exclusive TileMatrix and TileComp™ technologies combine with the ultra-narrow bezel of the NEC X464UNV and the full adjustment capabilities of a Peerless-AV pull-out mount to allow for simple installation and easy access while servicing the video wall. The minimal bezel widths help to avoid interruption of the displayed content while included cables can be used to source digital signage content while controlling the display. An NEC Display Wall Calibrator kit is included, allowing for accurate brightness intensity, white point matching and greater color uniformity from screen-to-screen. Bundled solution with everything required for a 3x3 video wall makes configuration and installation easy Pull-out mount allows for full-service capabilities and 6-axis adjustment for perfect alignment Direct LED backlighting technology improves power consumption and uniformity Display wall calibration kit, Overframe Bezel Kit, cabling and null modem cabling complete the solution Overnight onsite exchange warranty ensures minimum downtime for maximum impact Auto ID feature reduces install time in the single press of a button Expanded daisy chain options with DP1.2 enables 4K resolution Dual slot technology allows for the integration of single board computers and other option slot products with the need to stow additional external equipment Near field communication capabilities for setup and service NaViSet Administrator 2: Free software solution that greatly eases administration and management of larger display device installations Video daisy chain limitations apply when High-bandwidth Digital Content Protection (HDCP) is utilized
OPTION TWO

PLANAR Clarity Matrix MX LCD Video Wall LX55HDX-L
55 Inch Ultra Ultra Slim 1.7mm Bezel 3 x 3 Clarity Matrix Video Wall Solution
Military Control Room Grade Wall
$110,000 plus applicable taxes. Delivery in 4-8 weeks.
Install not included. Three year limited warranty.
(Two by Three Pictured)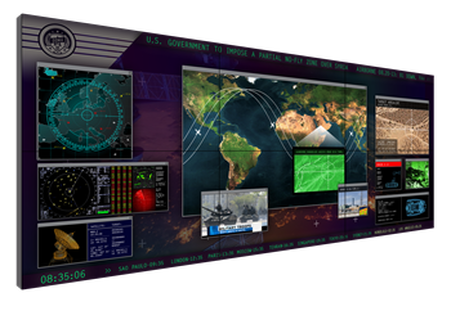 Clarity® Matrix® MX LCD video walls provide outstanding tiled visual performance, support extended operation, and require minimal installation space. Designed for 24x7 operation, Clarity Matrix MX models feature 800 nits brightness, LED backlight technology, and Full HD resolution making them the ideal video walls for high-impact, mission-critical applications. Clarity Matrix MX models feature the industry's thinnest tiled bezel widths ranging from 1.7mm - 3.7mm. Extreme Narrow Bezel LCD When tiled together to create a video wall, the 55-inch Clarity Matrix MX55HDX with extreme narrow bezel provides a tiled bezel width of just 1.7mm, transforming what was once a collection of LCD video wall displays into a near seamless, high resolution array that offers a cohesive, high-impact viewing experience. The Clarity Matrix MX55HDX offers improvements to the unique Planar® EasyAxis™ Mounting System, making it easier to achieve the smallest gap between individual LCD video wall displays, and a 10 percent power consumption reduction over previous 55-inch Clarity Matrix models. The Clarity Matrix MX55HDX video wall display combines the industry's thinnest profile extreme narrow bezel LCD display with superior design, installation and service benefits that deliver on its reputation as the industry's premier LCD video wall. Fiber Video Extension Option For government and military customers delivering highly sensitive information, the Clarity® Matrix® Fiber Video Extension option provides a more secure and longer distance option for extending the video signal from the Clarity Matrix off-board electronics to Clarity Matrix LCD video wall displays. The Clarity Matrix Fiber Video Extension provides integrated video extension over standard multi-mode or single-mode fiber optic cable. The Clarity Matrix Fiber Video Extension also incorporates an embedded USB extension in the fiber optic cable, eliminating the need for a third-party USB extender. Configure Your Custom Clarity Matrix Video Wall The Clarity® Matrix® LCD Video Wall Calculator provides a simulated representation of your video wall along with important product specifications specific to your Clarity Matrix video wall design, including dimensions, weight, rack components, power consumption and heat load.
OPTION THREE

GROUND BREAKING LED TECHNOLOGY
FROM CALIFORNIA BASED GLIC

Indoor & Outdoor LED Signs & Walls

3mm fine pitch all the way up to

25mm pitch for billboards

High Brightness Adjustable Up To 5500 nits

Wide Viewing Angle 160-180 degrees.

Robust Navi-Star 660 Controller

Easy Assemble Easy Connect

Lightweight Construction

Road Cases Included

Three Year Limited Warranty

Made To Order

10 -12 weeks for delivery

US based Company with Aspire AV Systems
as sole Las Vegas Dealer.

Product Currently Utilized At:

Cheesecake Factory Caesar's Palace

Marquee Nightclub at Cosmopolitan

Sports Book at SLS Casino & Resort

Poolside at the Tropicana

Google World HQ

Je-Lo On Tour

Exclusive LED Wall Vendor For Anheuser-Busch